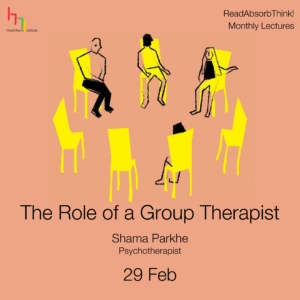 According to S.H. Foulkes, conducting / facilitating a group is a creative activity. He said, 'We will consider the conductor as a therapist in the more specific sense. This is a creative activity which needs much intuition. The conductor has to live with the group, expose himself to the currents permeating it and him, try to divine the meaning of what is going on and the relevance of this meaning. Only in the light of such an orientation will he decide on his various interventions, their nature and their timing. His fundamental attitude has been termed the analytic attitude'. (Foulkes, 1975)
The content of this seminar is a combination of her experience of running therapy groups for about 3 years now as well as being a member of different therapeutic groups both in India and abroad. 
Seminar Leader
Shama Parkhe
Psychotherapist & Psychodrama Practitioner
Shama has been working with adults in group settings using both group analytic and psychodramatic methodology. She has a keen interest in developing alternatives to traditional mental health practices by involving the larger community. She believes in the efficacy of group processes and aims at creating safe, reflective, and therapeutic spaces for groups of people experiencing interpersonal difficulties.